By Admin
Pictures: Admin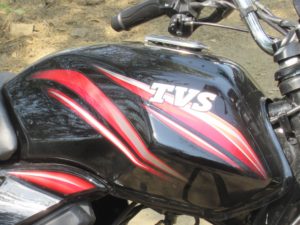 We all start from somewhere and the Start is always small, which is good. Even I feel that one should always 'Think Big – Start Small – Scale Fast' and that is what many of the Indian motorcycle manufacturers have done in the recent times. Thirukkurungudi Vengaram Sundaram – sounds a bit unknown to many but what if we tell you that it stands for initials of our very own TVS Motor Company – which had a very humble beginning and in recent times has brought in great products like Apache RTR series, TVS NTORQ 125 and many more.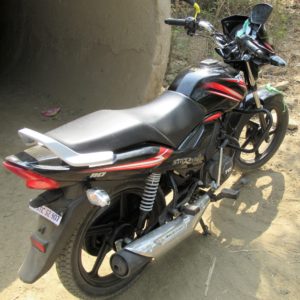 The product range starts from mopeds – one which we will definitely review very soon in the time to come –  to road legal motorcycles which are full of racing DNA. But today we are going to discuss #TVS #StreetCity+ or should I say Star City Plus and how it redefines the competition in Commuter segment.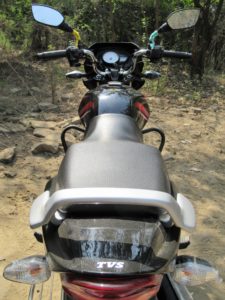 Design, Looks & Comfort:
A commuter motorcycle, a motorcycle used for reaching from point A to point B, with a 100-130 CC engine capacity, which is low on torque and high on fuel efficiency, and usually, does not requires to look good. But then again, commuters like #StarCity+ need eyes and heart which are serious about appreciating beauty and this is what happens when you don't look seriously at StarCity+. It is like a girl/boy in the party whose overall appearance does not influence your brain sensors which are responsible for defining beauty to your heart. But when you look at StarCity+ with some patience and seriousness you realise that the same girl/boy has the best features.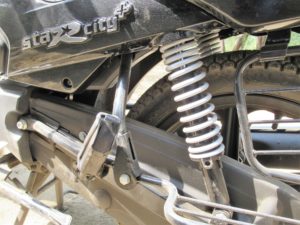 The tank has sharp edges just below the TVS logo, looks good, which could have been more eye catching, had it lasted till the end and had not ended abruptly in the middle. But, if we go by what TVS has to say about the tank design, well it lowers the coefficient of friction and helps the bike to easily slice through air, then one can easily ignore that abrupt ending. The side panel with 3d emblem saying 'StarCity+' looks amazing and makes the side profile of the bike appealing. The seat of StarCity+ along with that all aluminium grab-rail adds to the looks department. The exhaust may not sound amazing, again a not so important thing among the commuters, but the 'EcoThrust' motif on exhaust muffler with all that chrome makes the side looks catchy.
The electric start along with Kick start option make things comfortable especially when I used the bike in streets around my residence and in bumper to bumper traffic of Delhi. An 'Engine Kill Switch' may have made the life more luxurious as many a times during traffic signals which were more than 30 seconds, required taking away life from the engine by turning the key to 'Off'.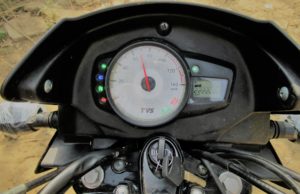 The multi-function console of the bike was like a friend who is as good in English as she is in Hindi and is always ready to help you out in your exam. It has Economy and Power indicator which really helped me to control the accelerator and reminded that I was driving a commuter bike and not a sport bike. The console has 'Econometer', a term used by TVS to define the indicator showing remaining fuel in the bike. Oh, by the way google accepts 'Econometer' as a term but MsWord somehow does not agrees with either Google or TVS.  Apart from this the console has 'odometer', 'turn signal indicators' and 'service reminder' indicator which are again, like the friend I have spoken about, makes life easier.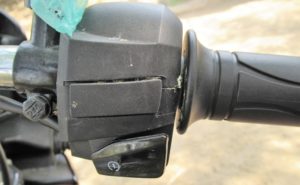 Also, the colour options provided are 11 and the quality of work is good and has definitely helped TVS Motor to attract more customers.
Ride, Handling & Performance:
Here I want to confess one thing, I have a tendency of reaching my destinations late, not because of being too slow while driving but because of being a bit lazy, until and unless the work has to do something with automobiles. This is where the heart of the StarCity+ which is a 109.7 cc engine with a maximum power of 8.4PS @ 7000rpm and maximum torque of 8.7Nm @ 5000rpm made my life punctual and easy. Jumping from one traffic signal to the other was not difficult as the engine packs power for the city drive but once you enter open stretches – highways, lack of power, especially when you try to achieve 3 digit figure, is clearly visible.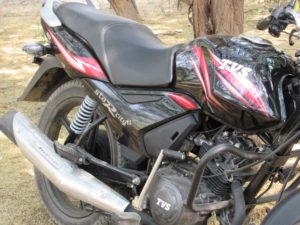 We all know that it is difficult to have that perfect recipe which gives satisfaction not only to stomach but to soul also. In case of StarCity+ the very satisfaction to stomach, if not to soul, is provided by its ability to handle awesomely in city and on highway and ride quality is good enough to keep you seated even while facing the idiotically designed speed breakers and un-seasonal potholes. Yes, the very lack of power on highway is taken care of by the handling capability and ride comfort of Starcity+.
Fuel Consumption & Price:
The very deciding factor for achieving good sales figure in this segment, most of the time, is the fuel consumption and price of the motorcycle. We drove around Delhi and by that we mean literally traveling to Rohini from South Delhi – making visits to doctor's clinic in my neighbourhood where bumper to bumper traffic and sudden breaking are quite common. We drove in conditions for which any commuter motorcycle should be prepared for and still, the 109.7CC engine gave an astounding 60+ km/litre range to us especially when the motorcycle given to us was brand new and had literally few Kilometres (not even into hundred) on the odometer.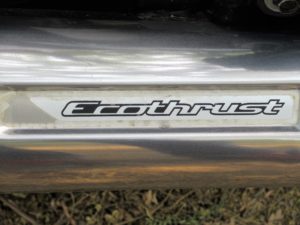 Price of this amazing no compromise motorcycle is something which has helped TVS keep its sales counter busy. The price ranges from Rs.45991 for the base (Kick Start MAG) to Rs. 51770 for the top end (dual tone) version ex-showroom Delhi. All in all 4 variants with multiple options are available.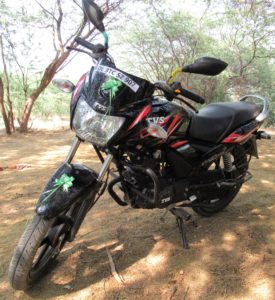 Our Verdict:
We gave a lot of thought and time while coming up with this article. The reason being that TVS Starcity+ is a great product, a dish which has been prepared as per the book but somehow lacks zing, the same zing which could make it a household name. Therefore, we have concluded about TVS Starcity+ in the following manner:
Best Thing about Star City Plus-
The peppy Engine with good amount of torque for that fast take off from a traffic signal.
The fuel consumption impressed me a lot because I used this bike in 60:40 ratio in city (60) and on Highways (40) and the almost 60+ average made my experience quite 'Economically Emotional'.
The comfort for the pillion rider was amazing as far as comparing it with Hero, Honda, Bajaj or Yamaha is concerned.
What more is expected-
The bike should come along with front disc brakes. Once riding the starcity+ a dog came suddenly out of nowhere and three of us 'just managed' to save ourselves from getting bruised.
The seats are fantastic, especially for the pillion but as far as the front portion of the seat is concerned, in our case, if 'sudden breaking' is done, the rider hits the tank. Courtesy Delhi traffic this happened many a times and every time I was happy that nothing happened to the most sensitive part of my body.
Rest, the Star City Plus, according to me is an amazing product which is a perfect combination of comfort and fuel consumption which is lighter on pocket price wise and maintenance wise.