Written by & Pictures : Javed Ali Khan
The very idea of doing a long ride is exciting and if you are planning to do it all alone, well, you would prefer a motorcycle which excites you because at the end of the day it's you and the motorcycle who are left with each other's company. With this thing in my mind, I went ahead and started my calculations which eventually lead my heart deciding the bike I should take. And there I was, standing with Triumph Motorcycles #StreetTwin and thinking why I listened to my heart when my mind clearly told me that it is more of a city beast.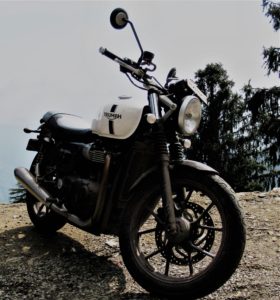 Well, believe me, the misconception I had regarding Street Twin of only being a capable City motorcycle broke and I am glad that I listened to my heart. The Street twin is Triumph Motorcycles entry level Bonneville in India which is the cheapest motorcycle from Bonneville family but that does not mean that it is less than anything. The best part about our journey was that the bike had not even clocked 6000 km on the odometer. This does not mean that previous riders had not experimented with testing the limits of this beautifully crafted motorcycle.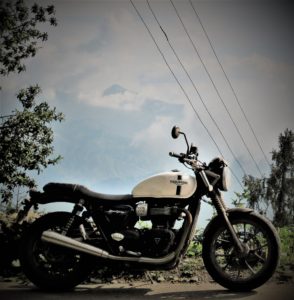 Style, Design and the oomph factor
The way street twin has been designed leads to a confusion of it being referred as a product from RE but once a look with a consistent pause is given, the words – reference – are taken back and mistake is realised. While undertaking our journey to Shimla we had multiple stops for snacks and coffee which always tasted different and so were the questions which were asked. Right from being declared as a cousin of RE's classic to a modified RE standard, we utilised every opportunity and made people aware of the fact that it was Triumph Street Twin.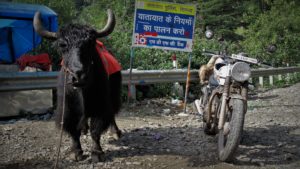 The best thing about the street twin is its naked retro look based on classic theme which makes it one of the most beautiful bikes available in the market which does not require unnecessary accessories to look exciting. The front is remarkable with round headlight coolly sitting on those short front shockers which are covered with a cover made out of rubber for extra protection (pun intended), indeed a necessity especially for the Indian weather conditions.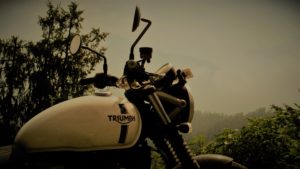 The brass coloured bend pipes coming out of the engine which are beautifully connected to the silver coloured silencers, make an everlasting impression and forces you to not to ignore the overall appearance. The seat is almost plain except a small step-based design and is the only thing which you would like to modify or change in the complete bike to make your long journey more comfortable.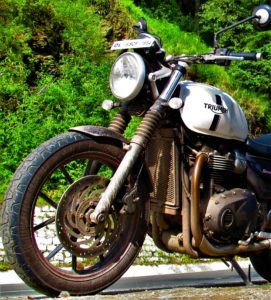 As far as the overall appearance is considered, street twin has everything at the right place especially when you compare it with the price at which it is available in the market.
Engine, Performance, Ride & Handling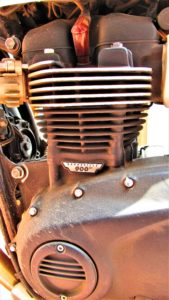 Well I have tested the Triumph T100 in the past and I found it to be a very safe bike as it never forces you to go all out to express the crazy child with in you. Rather T100 was more of a person who has decided to become more mature and responsible right after getting married or is almost on the verge of getting married. Coming back to street twin, the looks of this #beautyonwheels slowly and steadily, first, brings out the child out of you which happens when you are riding this bike within the city and once you are out on straight stretches and curvy roads, this bike forces the child within you to express its craziness by reaching almost 160 Km on odometer and pushing this small but fast bike in corners at high speed.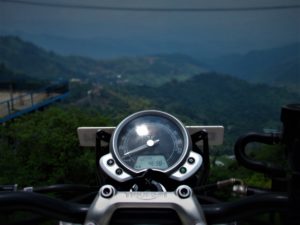 The only problem which we found was that the soft suspension setting at the rear made it vulnerable to bounce a bit in access while cornering on bad road patches at high speed. So, if you want to test the limits as far as cornering is concerned than we suggest you to do it on a good surface and not on roads where potholes welcome you with open arms.

The 900cc HT 8 valve engine is a parallel twin, which produces 80 Nm torque at 3200 rpm making the engine smooth as butter and free of vibration even after crossing 100km on speedometer. This 900cc beast is linked to a five-speed gearbox which makes it one of the most economically sound motorcycle as we almost got an average of 18 Kmpl while in city and 22 Kmpl on highways. The ride-by-wire mechanism brings enhancement to throttle, its responsiveness and overall feel of the bike is amazing.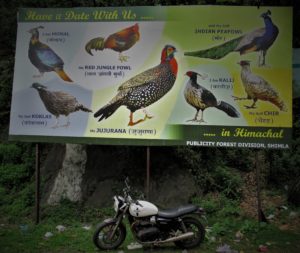 The bike boasts of anti-lock braking system which gives you the confidence of testing the potential of this motorcycle in terms of speed and traction control mechanism always keeps a check on the child within you which is always looking for an opportunity to do something crazy. We were impressed by the torque assist clutch mechanism which made the ride an experience worth remembering and yes the access to all the features of the bike through a simple switchgear made this bike more user friendly as you become aware of the potential this bike has.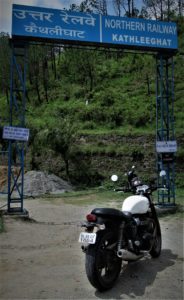 The Verdict
We will be very crisp and clear as far as 'verdict' is concerned. We did not like the seat and would suggest you to change the seat if you plan to use street twin for long rides too. Secondly the rear suspension was on a softer side which made the bike to jump or should I say wobble a bit in access while cornering on bad road patches, ones which are full of potholes.
Right from the appearance to performance the street twin is a masterpiece with very few issues, as mentioned above, which can easily be overlooked. If I have to buy a motorcycle for myself as a beginner to gain understanding about how a 'almost a litre' bike feels then indeed it will be a street twin.