By Admin
Pictures: Triumph Motorcycles India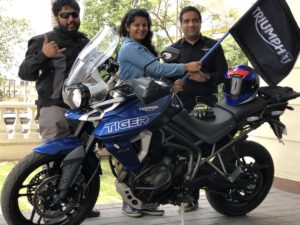 Triumph Motorcycles India has been quite active in the riding circle by conducting customer centric programmes like road safety workshops with focus on two-wheeler safety, spreading awareness through screening of educational films etc. For the very first time they are conducting 'Road Safety Ride' which began – 31.05.2018 – from Jammu of erstwhile State of Jammu and Kashmir and will end in Kanyakumari.
Mr. Vimal Sumbly, Managing Director, Triumph Motorcycles India Pvt. Ltd. says, "As a responsible automobile company, it is imperative that we are active participants in the initiative that educates and encourages people to ride safely. Two-wheeler riders are at a higher risk on the roads. The key to safe riding is a combination of defensive driving, adherence to traffic rules, situational awareness, always wearing riding gear and following common road sense.
Mr. Varad More is taking the journey on behalf of Triumph Motorcycles and each Triumph dealership will become a point for safety demonstrations for motorcyclist.
One can keep an update with regards to this initiative via social media handles of Triumph Motorcycles India.