By: Javed Ali Khan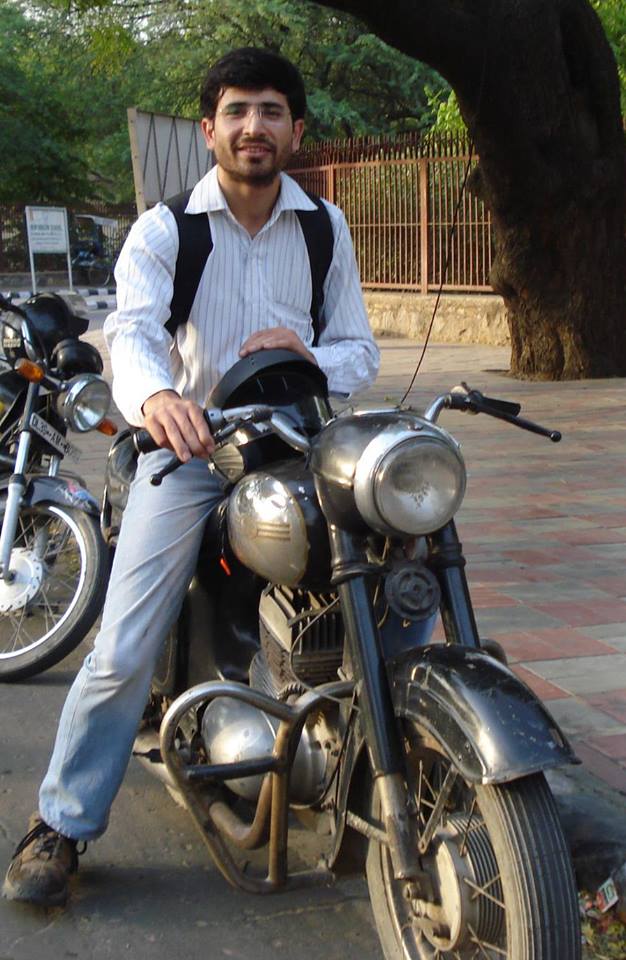 I have been a great admirer of automobiles, and by that, I mean literally anything which has an engine and runs on wheels. Such was my craziness for cars and bikes, when I was a young kid, that one day I entered a vehicle, a Mercedes or an impala, which was parked in a mechanics garage. The owner of the garage saw me and my brother inside the car and came charging towards us. My brother was lucky enough to run away but some how I got stuck and my brother had to rush back and open the door from outside. This was long time back ago, late 80's and this incident happened in DDA CAR market of Zamrudpur, next to Kailash colony, a part of South Delhi.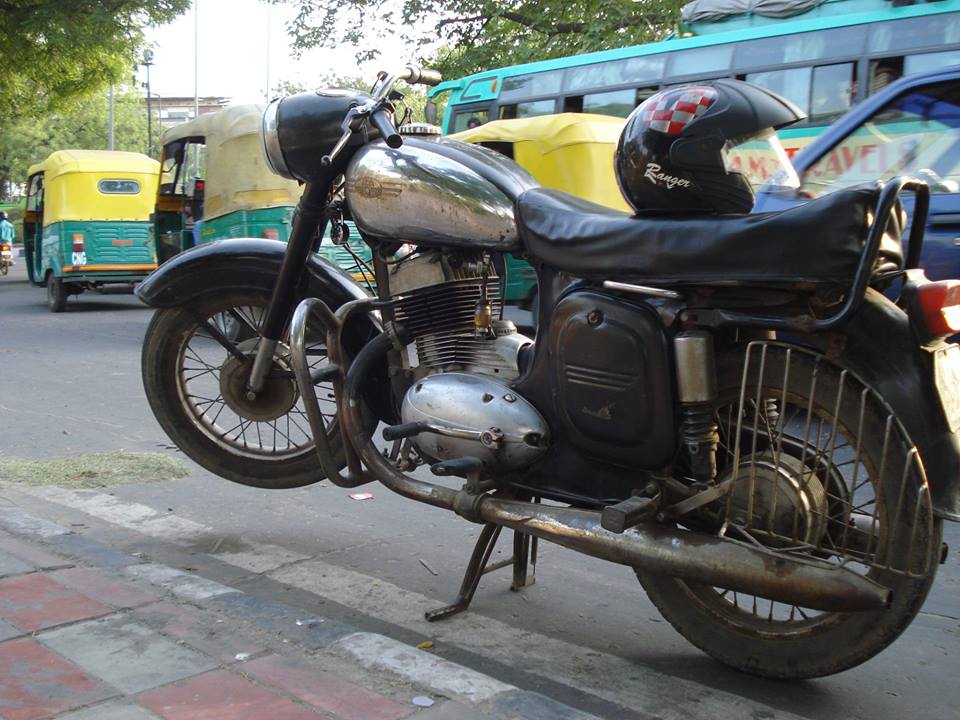 Back in 2010, one evening a friend of mine, Hashim, shared that a jawa motorcycle was up for sale. It was a black 1973 jawa, UP registered, having the head of a Yezdi. As it was something which I always wanted to have there was no question of giving a second thought. I went to meet the seller and came back with this black beauty. This bike totally changed my perception about two stroke vehicles and my parents who were against buying a motorcycle let me keep it after I told them that the bike is 38 years Old. I used Jawa as any 4-stroke motorcycle being used by people around me. The picture above was taken near Nizamuddin while on my way back to home. I travelled length and breadth of Delhi on this bike. Not only this, I rode this bike in and around NOIDA and Faridabad also and not even once did it gave me any issue.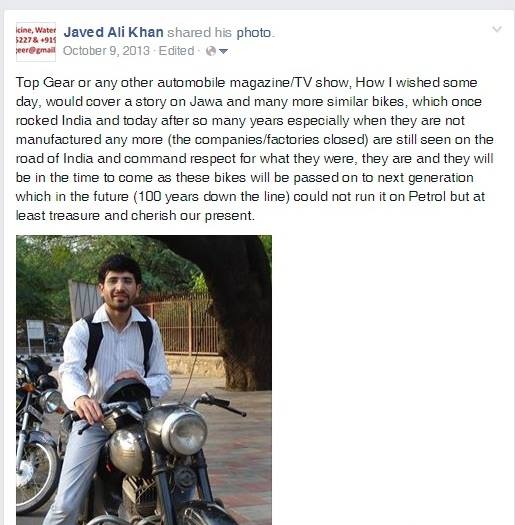 In 2013 I wrote on my facebook wall (above) that how nobody –  auto magazines, is writing about Jawas and Yezdis and how important they are from history perspective. And exactly a year later #Topgear India printed and an article on Yezdi and Jawa by the name 'The Last Soldier'. This forced me to write to Topgear and thank them for bringing out such a beautiful story. In return they published by comments in their magazine in the very next edition, as shown below.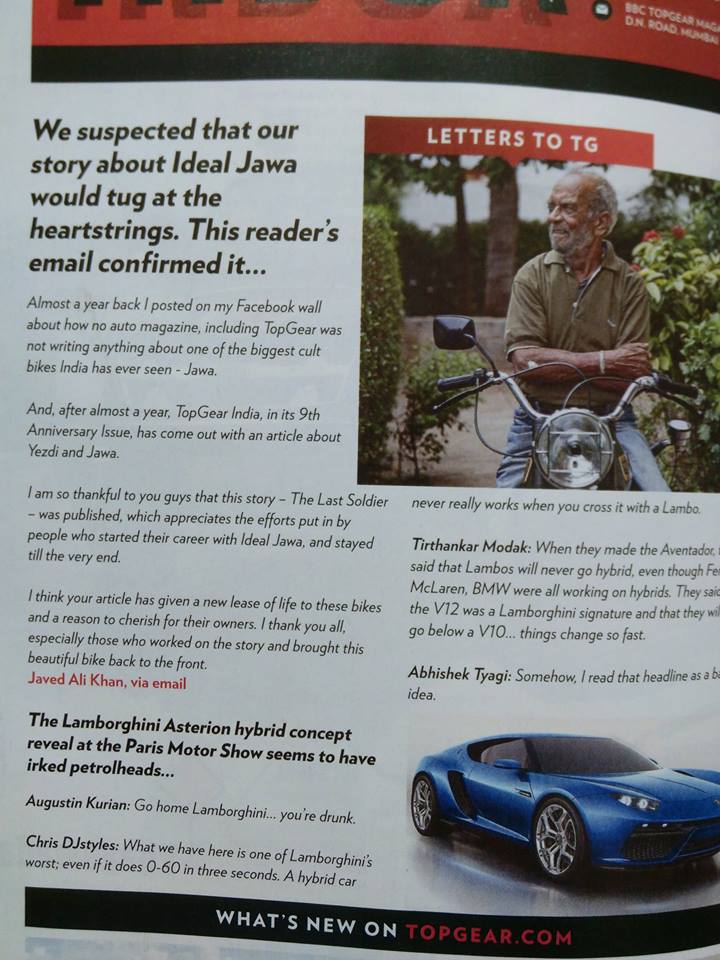 One fine day in 2014, I got a call from a person who shared his story of how his beloved 350cc two stroke motorcycle was sold by his parents while he was out of India for further studies. He shared that he had emotional attachment towards his bike and would like to buy my Jawa for the sole reason that it is quite unique. As I had used Jawa for almost 4 years, I was interested in owning and riding a Yezdi. I decided to sell off my Jawa (picture below after its restoration) and bought a Yezdi, a 1978 D250 classic.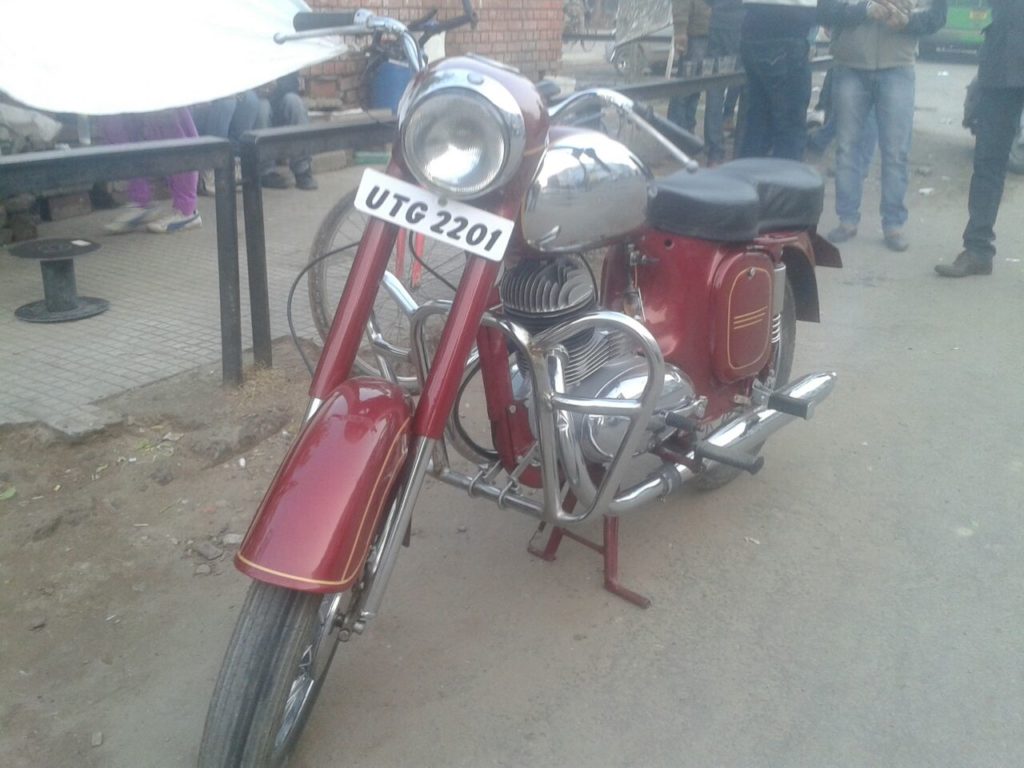 The day I bought a second hand yezdi, I took it to my office as I used to take my Jawa. One of my colleagues, who had some complications with his eye sight since birth and could not ride or drive by himself, whom I used to drop near his home, as we lived almost in the same locality, said to me that he has been on many bikes as a pillion but the level of comfort he got on jawa as pillion was quite commendable.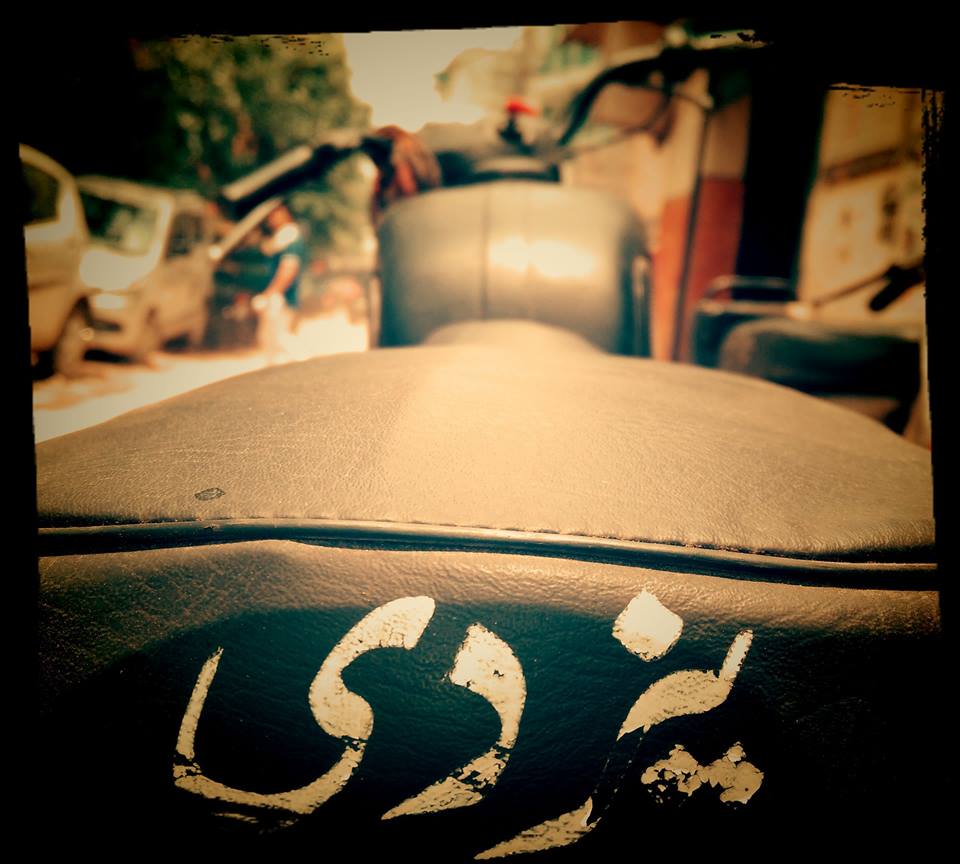 These bikes were so lucky for me that one day I got a call from NDTV CarAndBike who wanted to do a Classic car and bike theme based 'Independence Day Special' shoot. As I had a Yezdi available with me and also as I was going to be interviewed, I straight away agreed. The show was streamed on 15th of August, 2014. This gave me confidence and helped me to achieve my dream to continue my passion. After sometime I sold off my 1978 Yezdi to a Government official from Delhi and bought a 1980 yezdi which I recently sold away to another 'Two Stroke Nut Cracker' from Jaipur.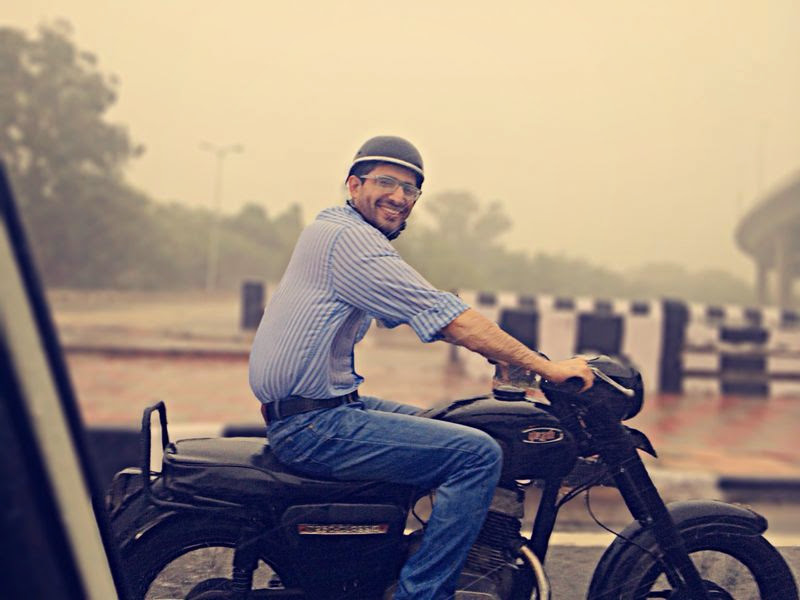 Today, I work in 'Development Sector' and have a 9-5 job, but my love for automobiles is still intact and I am currently, by my own self, running a website by the name www.automotivekeeda.com where I post review and news articles related to cars and bikes. #Automotivekeeda is also present on #Facebook, #YouTube, #Twitter and #Instagram with a very good amount of fan following.
Currently, I am looking for a #Jawa, the two stroke one, as I want to do an all-India tour. Want to relive the experience of traveling long distance on a Jawa. Hope my dream comes true.