Words: Javed Ali Khan
Pictures: Javed Ali Khan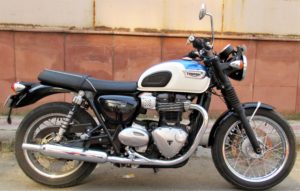 Triumph Bonneville T100 price, ex-showroom, is Rs.8.70 Lakh. Now you must be thinking why I have started this article by quoting the price and not with some great anecdotes or one liner to attract your attention. Well it is so because motorcycles like T100 don't require such things. Also, it is said, according to some people, that at the end of the day one always looks at the number of features provided when compared with the amount of money spent while making a purchase.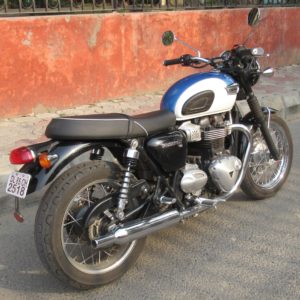 Well, if this is your approach towards buying a motorcycle, then believe me you are totally wrong because then you are one of those people who want to buy a motorcycle to reach your destination from point A to point B. Please stop right here. But if you are someone who thinks its not only about reaching your destination rather it's about the memories you make during the journey which in future you will cherish and share with your grandchildren then please feel free to continue reading this piece and yes do share your thoughts, obviously after going through the complete article.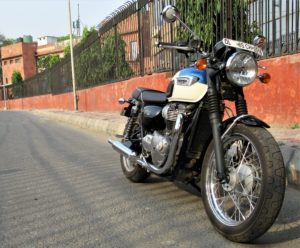 Attention seeker – Style, Looks and Colour
Triumph Motorcycles are one of those manufacturers in the world who have managed to retain the old-world charm and classic genes in their product without ignoring the technological advancement. First look at T100 and your eyes send signals to the heart that nothing is as beautiful as this legendary icon. We had with us – Fusion White and Aegean Blue and apart from this there are two more options available – New England White/ Intense Orange and Jet Black as far as colour options are concerned.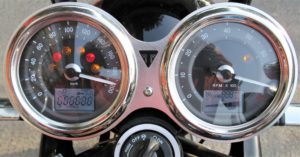 The paint job, the quality of chrome, the design of tank, the circular speedometer – reprising 1959 Bonneville – and seat makes the T100 aesthetically more sound and attractive as compared to its nearest competitor. It works like a cleansing agent for heart and soul and brings peace, patience and calmness and, believe it or not, positive changes to the character of an individual.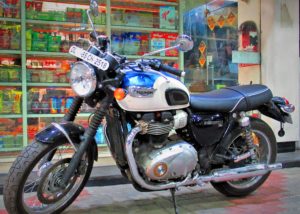 I had this #BeautyOnWheels, which has parallel-twin engine, with me for 4 days and it was only once that I crossed the 100Km mark. I knew a light flick of the throttle would have shown the effectiveness of ride-by-wire mechanism and I could have crossed 100Km mark many a times but while riding T100 you are stopped from doing it. Well It is a bit difficult to explain but it is important for me to make you understand this feeling of not being harsh on T100. I know that we all have, at one point of time, taken our girlfriend or wife for a spin on a motorcycle and always thought that it should, the ride, never end. Well it is the same feeling with Triumph T100 but minus your girlfriend or wife.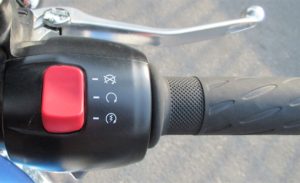 The triumph Bonneville T100 comes with 150 options of customizing as per your own taste but that would cost you a good amount of cash. But the way T100 is, the headlight, the silencer – oh they are so cool and beautifully placed, the instrument cluster, the chrome sticker on the tank and every part and from every angle makes you to realise that there is no hard and fast need of customisation at the time of the purchase. This – customisation –  is something which can do after sometime in case you want achieve more out of the T100.
The Calm Beautiful Beast – Engine, Performance, Ride & Handling
#TheCalmBeautifulBeast, as I refer to T100, is a liquid cooled 900cc parallel-twin engine with 8 valves with crank at 270° which creates 54 horse power and 80NM Torque. These are not mere numbers but the reason why T100 becomes aggressive at the click of 1st gear and by the time it reaches 3000rpm the beast approaches 100Km figure with a calm and composed manner and beyond 120Km it again starts acting in aggressive manner. Torque of 80NM makes this 200+Kg beauty act like a rocket and helps you to beat the city traffic with ease and the linear acceleration makes it a calm highway cruiser.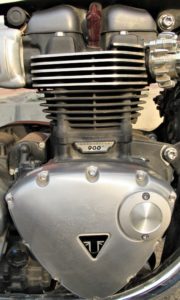 T100 given to us had only 1100Km on the odometer and hence was in neat condition. The Km to litre figure during our time spent with this #BeautyOnWheels was not much to brag about as it gave merely 18Km/litre. We covered around 200 km and it is important to note that 35% of the time we used t100 on highway and a good 65% of the time in bumper to bumper traffic of Delhi. With the passage of time and many more km on the odometer we expect the fuel consumption to increase up-to 22-24 km/litre. As per Triumph Motorcycles, it is because of the new Liquid Cooling system there is an increase of 29% in fuel economy when compared with the older air-cooled model but it is the only reason why riding during summer becomes a small problem. The radiator throws air directly on the legs of the rider which may force you to take breaks during long journeys, but that would happen only during summers.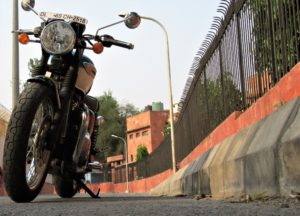 A very important thing which I learnt while riding T100 was that one needs to 'Un-Learn' everything to 'Learn' something new. The very first time when you try to change the lane while riding T100, it feels like that you have to put in more effort as compared to what you had thought. To cut it short, changing lane while riding T100, initially, is a bit interesting task but once you are able to sync yourself with this calm beast, there is no looking back and you start exploring more and try to test the limit.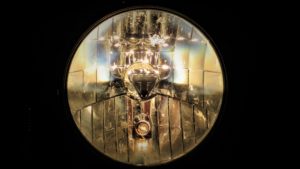 But here is what is important, do not test the limit, not because you are not capable of doing it or T100 not capable of it but because doing so would be wrong as T100 commands respect and needs to be driven at a respectable speed, which according to me is anywhere between 80 to 100 Km/hr.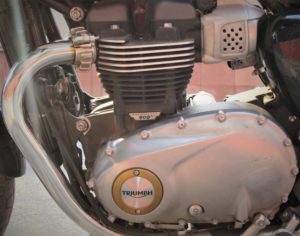 The T100 chassis and suspension allows it to eat any kind of Potholes in an easy manner without letting the rider losing either confidence or focus. This confidence is also backed by single 310mm floating disc with Nissin 2-piston floating caliper at the front and single 255mm disc with Nissin 2-piston floating caliper at the rear along with ABS.
The Verdict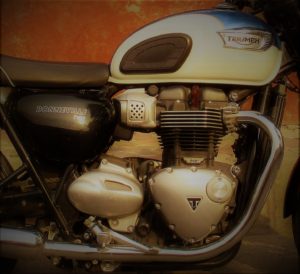 There are manufacturers who make motorcycles and then there are manufacturers who create ART in the form of MOTORCYCLES. Bonneville T100 is a motorcycle which is a #BeautyOnWheels and #TriumphMotorcycles have created a perfect art form which can never get old rather it grows on you and keep tinkling with that corner of your heart which reminds you that there is more to life than a normal routine of reaching point A from point B. Triumph Bonneville T100 tells you that it is the journey which defines you and not the destination.